I am in love with skateboarding, Where it has been and where it is going.
This is my collection and is on display at the shop
Bahne Skateboard
Bahne Skateboards one of the original skateboard companies from the 70's. They were instrumental in the re-birth of the sport. Bahne was an omnipresent name in skateboarding in the early 1970s, as the Bahne brothers – Bill and Bob – converted their means of production for Fins Unlimited into churning out dozens, then hundreds, then thousands, then tens of thousands of Bahne skateboards as skateboarding enjoyed its Second Big Boom, ignited by urethane wheels. Tony Hawks First Skateboard was a Bahne (a blue one)
This board was once skated by Cody (original owner)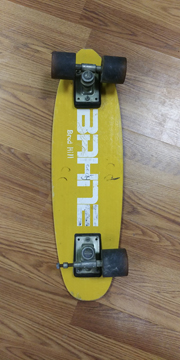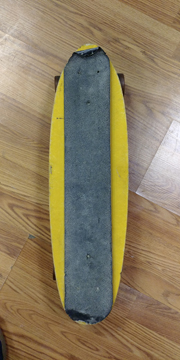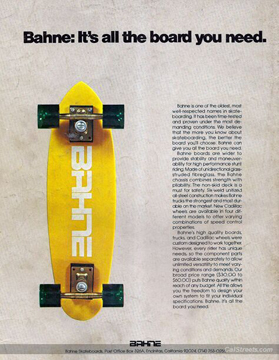 SURFER Magazine Fiberglass Skateboard
If you love the cover shots on old '70s SURFER Magazines you will want this skateboard.
A 24" fibreglass deck showing classic surf pics, with original Continental trucks and as new Continental Slicks fitted.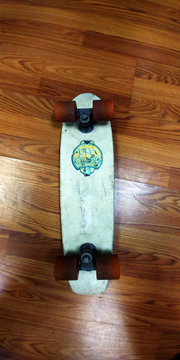 Skitch Hitchcock World's Champion Fiberglass SkateboardFiberglass deck with typical 60s trucks and some VERY early urethane wheels on there.
Size is 6" x 24"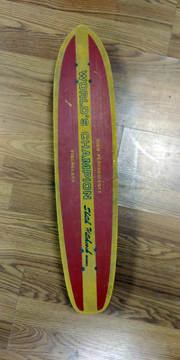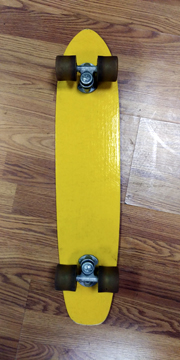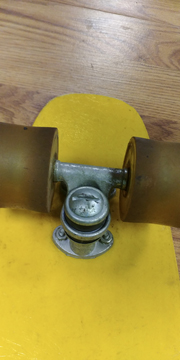 Sport & Fun Nano Cruiser 1970s
Fiberglass Deck 24" x 5.5"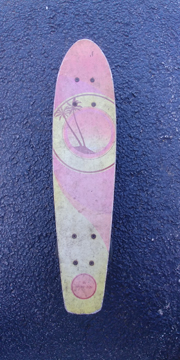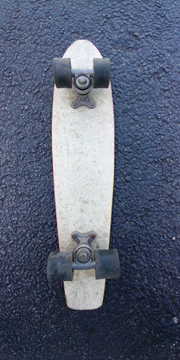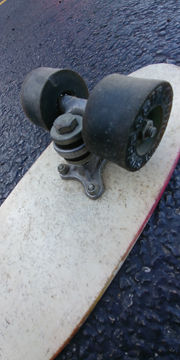 Sport & Fun Black Knight Skateboard
Plywood deck with red clay wheels and great graphics.
Size 21.5" x 5.5"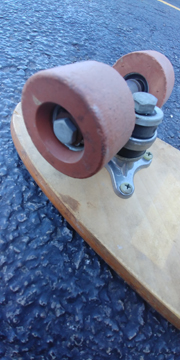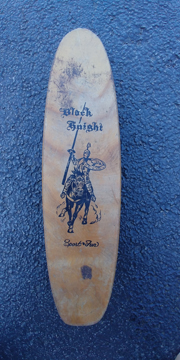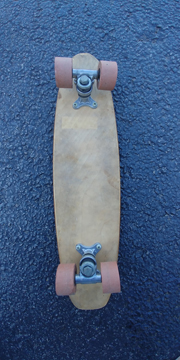 Wards Hawthorne Wooden Skateboard
Size 21.75" x 5.5" with clay wheels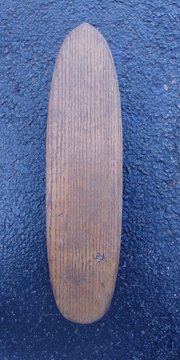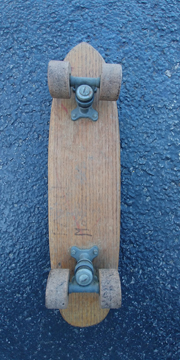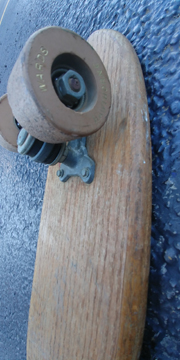 Nash Fifteen Toes
Nash Fifteen Toes Black from the 1960s.
Features a 22" timber deck with early metal wheels and trucks.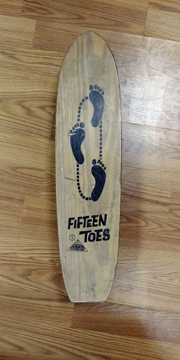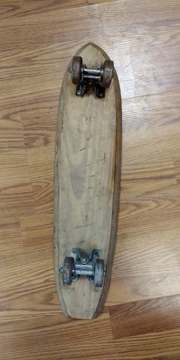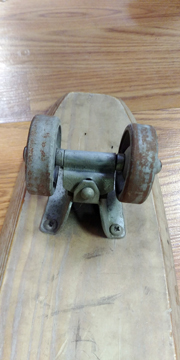 Nash Tender Foot Skateboard 1960s
Once skated by Dan Rhodes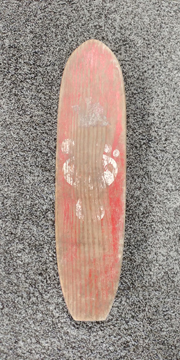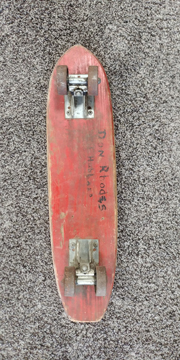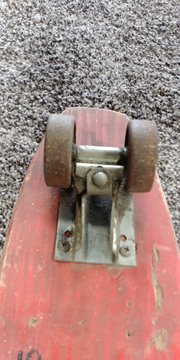 Nash Hot Foot Skateboard
This is a late '60s thru to early '70s Nash Hot Foot with nice red racing stripes on the deck and a partial sticker on the bottom.
Manufactured in Texas by Nash Manufacturing Inc it features the original trucks and correct hard black clay type wheels.
Size 22.25"x5.0"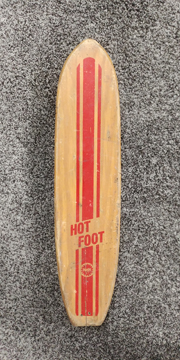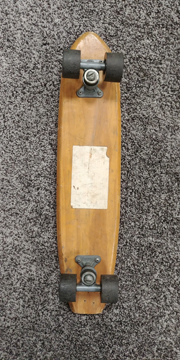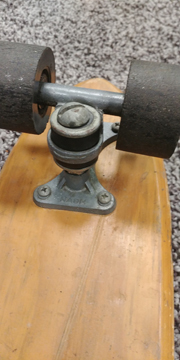 Nash Sidewalk Surfer Skateboard - Blue and Red
Size 26.75"x6.5" - Metal Wheels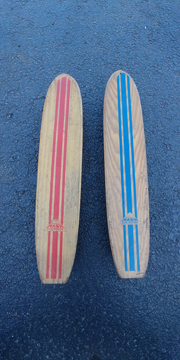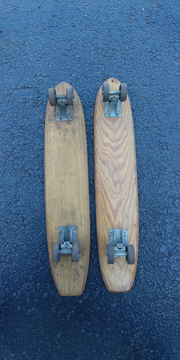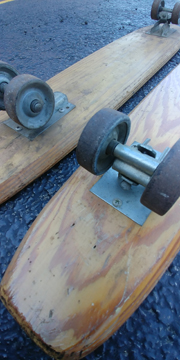 Nash Sidewalk Surfer Skateboard
Size 26.75"x6.5" - Clay Wheels (with one bearing cover left)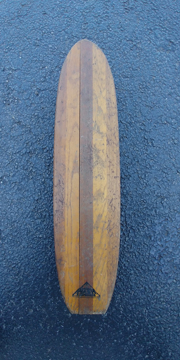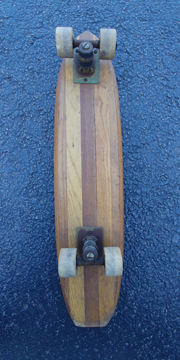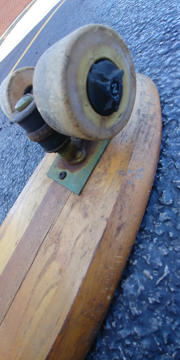 Nash Park Rider Skateboard 1970s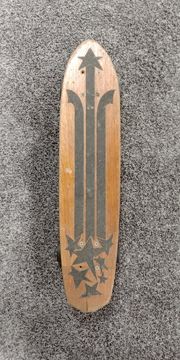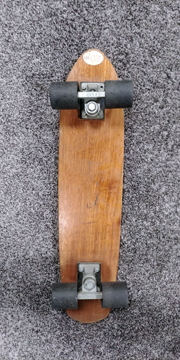 Free Former California Skateboard ALS Industries 1970s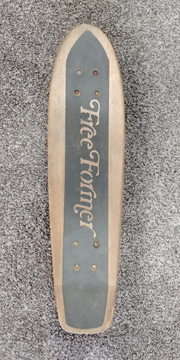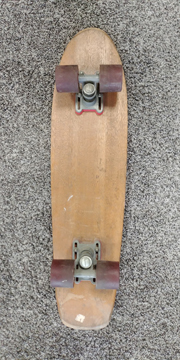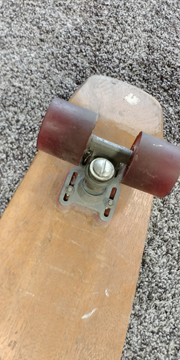 BUN BUSTER SKATEBOARD EARLY 1960S
MANUFACTURED BY TEENCO NORTH HOLLYWOOD CA
WITH THE ORIGINAL TEENCO CLAY WHEELS
Size 22.75" X 6.5"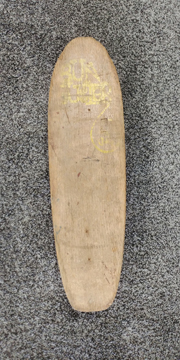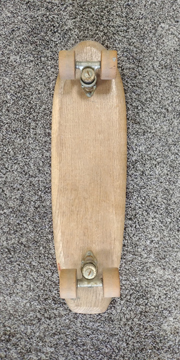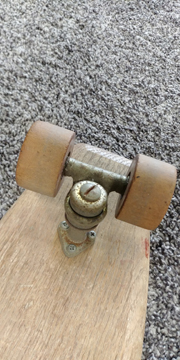 Unknown Skateboard 1960s
This board has no branding other than the Precision Trucks and Universal Grapper IV Wheels
I think the deck was hand made
Size 30" x 7.75"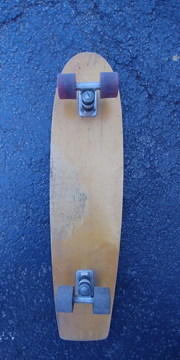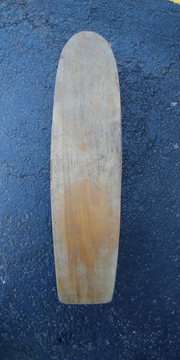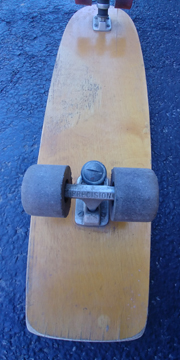 Zipees Sidewalk Skateboard
A cool little plywood skateboard made in the early '60s by the Manning Mfg. Corp. Chicago.
Size 19" x 4.25"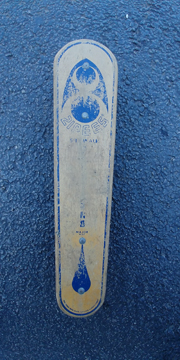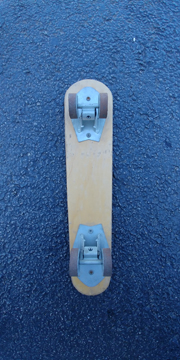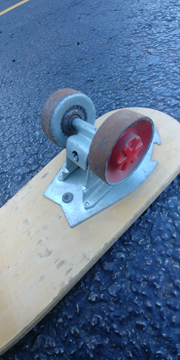 Banzai B402 Mach II Metal Skateboard 1970
Deck size 24" X 5.5"
once skated by Bri